2014 Moon Calendar Discounted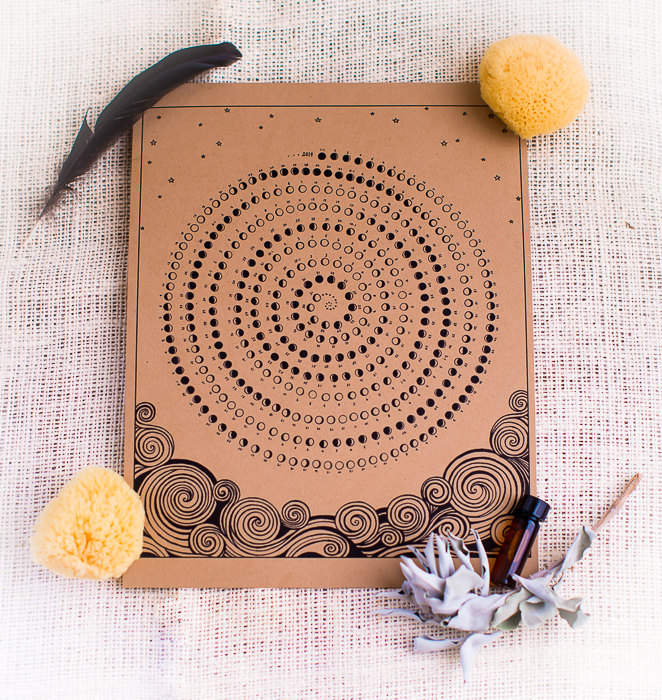 2014 Moon Calendar Discounted
Holy Sponge's 2014 Moon Calendar!!! A great gift for yourself or friends to track the rhythms of the moon. This original print was designed by Alma Reyes Evans of Winding Labyrinth Art. The calendar comes to you on brown thick 8 1/2 x 11 paper and is shipped in a sturdy, thick envelope. This calendar is based on the northern hemisphere. We are working on eventually getting a southern hemisphere calendar in the future.

Lunar Calendars show what phase the moon is in every day of the year, so the idea is that you can chart your menstrual cycle (or other life cycles) with the moon, which is on a 28 day cycle like a menstrual cycle. Before the age of electricity, people bled with the new moon and ovulated with the full moon. Every body is unique and the lunar calendar is simply a tool that can work for anyone to notice how these (all) cycles are interrelated as our ancestors did.

The new moon, or the dark moon, is symbolic of new soil- a time to plant seeds and intentions for the 28 day cycle ahead, and as the moon grows (waxes), the seeds grow and our intentions begin to manifest in some way. The full moon represents the fullness or completion of whatever was planted during the new moon- a time to celebrate or notice what has peaked. As the moon wanes and her light diminishes, the cycle comes to a close and we let go of the current cycle to prepare for the next. Our ancestors have used the moon as a guide in this way for thousands of years.

*Holy Sponge! celebrates bleeding bodies and we are focused on menstrual activism, but please know that we also celebrate non-bleeders too and love when they use moon calendars to chart their life cycles as well. Tibetan Buddhists believe that the white moon is associated with masculinity/male aspects. The power of the moon is big and beautiful for ALL of us!